Discipleship Training School (DTS)
What is a DTS?
A Discipleship Training School (DTS) is a five  month school that allows students the opportunity to grow deeper in their relationship with God and to experience missions first hand. During the three-month lecture phase of our DTS, students receive instruction by internationally respected teachers on the following topics: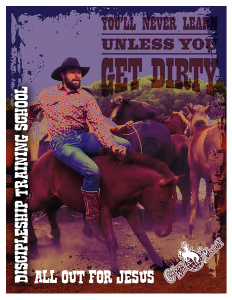 Hearing God's Voice
Nature & Character of God
Relationships
Openness & Brokenness
Forgiveness
Horsemanship
Intercession
Spiritual Warfare
Giving Up Your Rights
Evangelism
Missions
Students also have the opportunity to participate in the following activities:
Fundamental discipleship
Prayer and intercession
Small group discussions
Dramas, skits and other methods of evangelism
Reach out to cowboys and cowgirls at local rodeos and other western and horse related events
Reach out to local ranchers in practical ways by helping them out at brandings, moving cattle, etc.
The Outreach Portion of your DTS:
The 8 week outreach occurs after the lecture phase. This allows you the opportunity to apply all that you have learned during the lecture phase in another country. Possible outreach locations include, South and Central America, Mongolia, Nepal, Africa and more. There are cowboys, ranchers, farmers, and horsemen in every country in the world.
FAQ:
Q: Do I need to be a cowboy/cowgirl  to do this DTS?
A: No, just an open heart, a willingness to dive into the culture, learn about it and have a desire to be used by God in rural ranching communities.
Q: Do I need to know how to ride a horse?
A: No, you will be taught basic horsemanship skills on reliable horses. Horsemanship is a part of the DTS curriculum, and a huge part of cowboy culture. All you need is the desire to learn about this beautiful animal and the courage to get on its back!